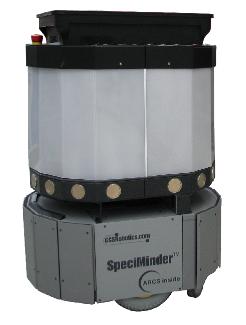 SpeciMinder™ Overview
The SpeciMinder™ was designed to fulfill the role of transporting lab specimens throughout a healthcare laboratory. Security, timeliness, and reliability are key factors in evaluating this task. We are by no means eliminating jobs but rather allowing existing resources to better utilize their time. It is estimated that up to 50% of a lab technician's time is spent moving specimens from receiving to outlying specialty labs. In large healthcare facilities, the throughput and timeliness of specimen transport is adversely affected.
SpeciMinder™ Operational Description
While overqualified to be a toaster, it should be as easy to operate. In other words, an appliance not a highly sophisticated computer on wheels requiring a robotics degree to operate. The SpeciMinder™ is designed around the normal operating procedures of a typical pathology lab.
Simple illuminated pushbuttons (similar to an elevator) allow the technicians to select destinations for the specimens. The robot will stop at all selected destinations according to the most efficient route. Then return to a central dispatch area when done. The SpeciMinder™ will automatically return to its charging dock when not in use. All timers are changeable by the user via simple browser interface.
Verbal announcements and other sounds (bells, chimes, music, etc) are used by the robot to alert people to its presence and intentions. "I am going back to my dock", "I have a delivery for you" are just some of the phrases used.
As obstacles present themselves during a route, the robot quickly re-plans the path or stops and waits for the obstacle to clear. Doors and elevators can be operated wirelessly when needed.
Designed for the dynamic lab environment
Fully autonomous, 24 x 7 operation
Simple pushbutton user interface
Unrestricted access to payload
MLC - Delta 5 Rating
32,000 Individual Delivery Runs

50,000 Door Openings

2000 Autonomous Miles Traveled

5000 Charging Cycles

98% Up Time (over 24 x 7 shift)
Typical Yearly Statistics
SpeciMinder in charging dock
Large Payload moving thru tight spaces